Jokowi has declared Ma'ruf Amin as his running mate.
REPUBLIKA.CO.ID, JAKARTA -- The incumbent President Joko Widodo (Jokowi) said KH Ma'ruf Amin is the right figure to accompany him in 2019 presidential election. His statement appeared before he went to General Election Commission (KPU) on Friday (Aug 10).
"Prof KH Ma'ruf is the right figure to accompany me, to continue the struggle," said Jokowi.
According to Jokowi, Ma'ruf is a wise and respected ulema of all Muslims in Indonesia. In addition, the Nahdlatul Ulama (NU) supreme leader is also considered as a figure who has a strong track record.
"He has long experience at House of Representatives (DPR), Regional Legislative Council (DPRD), People's Consultative Assembly (MPR), and MUI chairman, so it means he has a complete track record and experiences," Jokowi explained.
Jokowi said he and Ma'ruf have the same view, such as in overcoming the problem of poverty and the economic gap by strengthening the Indonesian economy. As a country with the largest Muslim population in the world, he asserted that the problems must be solved.
"When Ma'ruf becomes professor, his inauguration speech was related to Indonesia's new economic flow. This means that he is very knowledgeable about the economy," Jokowi added.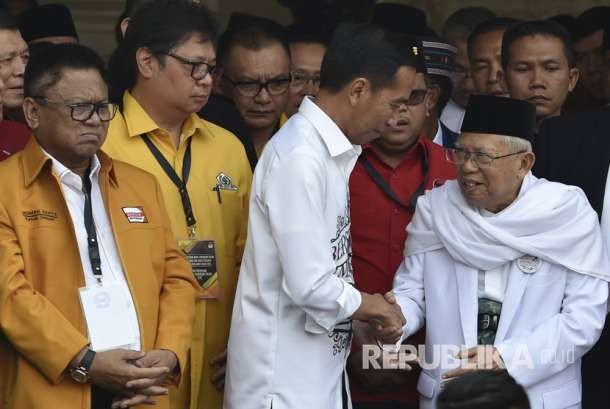 Incumbent President Joko Widodo (center) shakes hand his running mate KH Ma'ruf Amin (right) witnessed by Hanura Chairman Oesman Sapta (left) and Golkar Chairman Airlangga Hartarto (second left) after delivering political speech at historical building Gedung Joang, Jakarta, Friday (Aug 10).
Furthermore, Jokowi promised he and Ma'ruf will bring Indonesia forward and independent. He expected all Indonesian people can feel the independence that has been achieved. Both of them also vowed to bring social justice, leveling equitable development, safeguarding sovereignty and natural resource wealth.
"Rokan bloc, Mahakam bloc, and majority of Freeport shares are proof that we are sovereign and as much as possible for the prosperity for Indonesian people," Jokowi said.
Jokowi stressed, the efforts made by the government so far are evidence that government has done good work for Indonesia. He said what his cabinet did was real, not fiction.
"This is the foundation that is built that needs to be continued," Jokowi concluded.