Gus Sholah says Kiai Ma'ruf should put forward people's interests before others.
REPUBLIKA.CO.ID, JAKARTA -- Chief Tebuireng Islamic boarding school KH Salahuddin Wahid "Gus Sholah" supported Nahdlatul Ulama (NU) to return to its initial principle (khittah) set during establishment of the religious social organization in 1926. His comment came as a response to the call from Yenny Wahid, daughter of former Chairman of Central Board of NU KH Abdurrahman Wahid "Gus Dur".
Yenny has urged the organization to not involved in political practice although its supreme leader (rais aam) KH Ma'ruf Amin contested in the presidential election 2019 along with incumbent President Joko Widodo (Jokowi). She asserted NU is neutral.
"I agree. NU officials need to sit together to unify perceptions. Because now NU has become a political tool, especially for National Awakening Party (PKB)," said Gus Sholah on Monday (August 20).
Gus Sholah admitted culturally there was no problem between NU and PKB or United Development Party (PPP). However, dragging NU either to PPP or PKB would bring disadvantages to the organization because the cadres spreaded in various political parties.
"NU should be above all political parties, so NU should put itself above all practical politics," Gus Sholah added.
Gus Sholah said Kiai Ma'ruf should make full consideration before appealing Nahdliyin (NU followers) to vote for Jokowi in 2019 presidential election. He said Kiai Ma'ruf should put forward interests of the people before others, including interests of NU.
"Personally, I choose the interests of the people first and then interests of Islam, and lastly NU's interest," Gus Sholah said.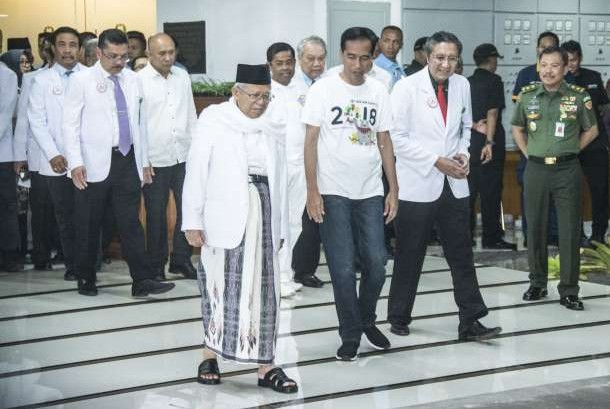 Vice presidential candidate KH Ma'ruf Amin (left, front) along with incumbent President Joko Widodo (white shirt) left RSPAD (Army Hospital) Gatot Subroto in Central Jakarta after following medical check up related to their contestation in presidential election 2019, Sunday (August 12).
Actually, Gus Sholah welcomed appointment of Kiai Ma'ruf as Jokowi's running mate in 2019 presidential election. However, he worried that it would become a burden for Kiai Ma'ruf.
"Mr. Ma'ruf is an old man. We worried that the task will burden him, although doctors say he is healthy," Gus Sholah said.
Meanwhile, spokesman of Jokowi-Kiai Ma'ruf camp, Idy Muzayyad believed the pair will gain a lot of votes from NU. On the other hand, he realized the support of NU followers would not be all out since their voice has always been unanimous.
However, Idy said NU followers are fair and not affected by all kinds of hoaxes related to Jokowi. "Sympathy for Jokowi will still emerge and be realized by choosing Jokowi in the upcoming 2019 presidential election," he remarked.
NU was a political party during New Order era. However, NU has returned to its khittah in the 27th Congress of Nahdlatul Ulama in 1984 in Situbondo, East Java.