Through National Dhikr, Indonesian nation seeks God's blessings to meet challenges.
REPUBLIKA.CO.ID, JAKARTA -- The presidential office held the 2nd National Dhikr, a special prayer gathering, at the State Palace here on Wednesday. It was staged ahead of the country's 73rd independence anniversary on August 17.
A number of notable clerics, including chief of the Indonesia Ulema Council (MUI), KH Ma'ruf Amin, arrived at the venue at 5:20 p.m. He stated that "this event has been held routinely on Aug 1. It has so far been held twice because Pak (Mr) Jokowi (the president) has asked for a national prayer to be held every August 1, ahead of the independence anniversary."
He noted that through the event, the Indonesian nation would seek God's blessings to meet challenges.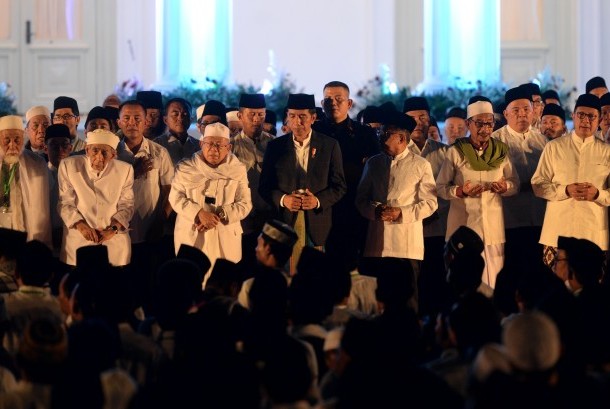 President Joko Widodo (center) flanked by Vice President Jusuf Kalla (right), and MUI Chairman KH Ma'ruf Amin attends National Dhikr to commemorate 73rd Independence Day at Merdeka Palace, Jakarta, Wednesday (Aug 1) night.
Also read: Ulemas to perform dhikr to calm Jokowi
"Some of the obstacles may be eliminated, while the impact of others may be reduced. Some others may possibly be beyond human power. Through this event, we would seek God's help to safeguard and ease the burden of the nation," he explained.
The prayer event was organized by the state secretariat. The office will also hold an art exhibition presenting 45 art items, including paintings and sculptures from 34 artists from the country and abroad, at Galeri Nasional Indonesia from Aug 3 to 31.
The art items are taken from the collection of the state palaces in Jakarta, Bogor, Tampaksiring (Bali), Yogyakarta, and Cipanas.