Swiss Museum has a workshop on batik
Tuesday, 04 September 2012, 22:46 WIB
Komentar : 0
Republika/Wihdan Hidayat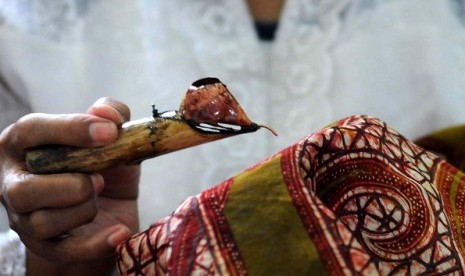 REPUBLIKA.CO.ID, LONDON - Museum der Kulturen Basel in Switzerland cooperated with Indonesian Textile Museum held Batik Workshop - Exclusive opportunity with Indonesian Textile Experts in Basel, the cultural city in Switzerland.
A museum curator, Richard Kunz, who speaks fluently in bahasa Indonesia, said the participants of the workshop were limited to 20 people. The participants were ranging from housewives to textile designers. The cooperation between Museum der Kulturen and Indonesian Textile Museum was initiated years ago.
The workshop was led by Benny Gratha from Indonesian Textile Museum and started with the explanation of Batik history and its development. The participants then learned how to make Batik. They were allowed to paint any pattern they liked, from traditional to modern.
Museum der Kulturen Basel has rich section of 18th Indonesian textile. The Director of Indonesian Textile Museum Indra Riawan asked the Museum Basel to exhibit its collection in Jakarta.
Seorang wanita masuk neraka karena mengikat seekor kucing tanpa memberinya makanan atau melepaskannya mencari makan dari serangga tanah((HR. Bukhari))