South Bengkulu Regent allegedly receive bribes from five projects.
REPUBLIKA.CO.ID, JAKARTA -- Corruption Eradication Commission (KPK) announced South Bengkulu Regent Dirwan Mahmud is allegedly involved in bribery case related to five infrastructure projects in the region, budget year 2018. There were four people arrested during operation, a regent, a regents wife Hendrati, a government employee named Nursilawati, and a businessman named Juhari.
The four suspects are allegedly give and take bribes as part of fee commitment from five projects in South Bengkulu, said KPK spokesperson Febri Diansyah on Thursday (May 17).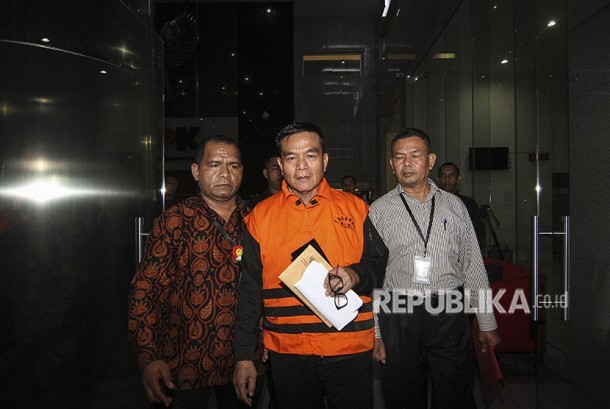 South Bengkulu Regent Dirwan Mahmud escorted to the prisoner car after being examined at Corruption Eradication Commission (KPK) office, Jakarta, on Wednesday (May 16).
The five projects are the normalization or hardening of Telago Dalam street to Cinto Mandi, Pino Raya Sub-district, the road improvement project of Tanggo Village (two bridges) Pino Raya Sub-district, and Rabat Beton Village Napal street project across the District of Pino Raya. In addition, there is rehabilitation project of bridge in Telaga Dalam Village, Pino Raya.
Dirwan, Hendrati, and Nursilawati were allegedly received bribes. Meanwhile, Juhari was the one who gave bribes. Febri said KPK investigators seized around Rp 100 million in cash during the arrest of suspects.
Currently, Dirwan is detained at KPK detention center. Meanwhile, Juhari at KPK Branch Detention Center, and Hendrati with Nursilawati at South Jakarta Detention Center.