Indonesian Army still studies the Apache purchasing plan
Sunday, 23 September 2012, 17:10 WIB
Komentar : 0
usmilitaryhelicopters.org/en.wikipedia.org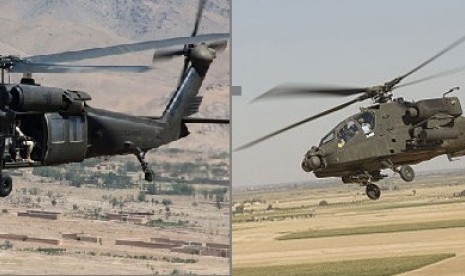 REPUBLIKA.CO.ID, JAKARTA - Commander-in-Chief of National Armed Forces (TNI) Agus Suhartono said that Indonesian Army (TNI-AD) still studied the plan to purchase eight units of attack helicopter Apache from US. "In the context of the improvement of Minimum Essential Force (MEF), the Army plans to buy attack helicopter either Apache or Black Hawks," he said on Sunday.
Suhartono gives the decision to the Army. But, government has not prepared any further step towards the purchase of Apache from US. Government also has not officially submitted the plan to the US.
The Chief of Public Communication at the Ministry of Defense, Hartind Asrin, said both US and Indonesia had discussed the purchase, but Indonesia had not yet prepared anything. "We are waiting for the official offering," he said. Soon after Indonesia gets the offering, Indonesia will send a team to US to monitor the helicopter.
Salah satu di antara kalian tidak beriman sebelum ia mencintai saudaranya (atau beliau bersabda: tetangganya) seperti mencintai diri sendiri. (HR Muslim)