Mursi to visit Indonesia
Sunday, 19 August 2012, 23:00 WIB
Komentar : 1
Reuters/Egyptian Presidency/Handout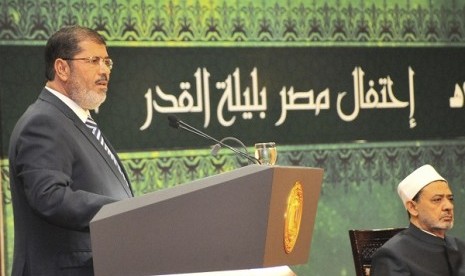 REPUBLIKA.CO.ID, CAIRO - Egypt's President Mohammed Mursi is planned to pay a second visit to Indonesia to strengthen the bilateral partnership. He made a first visit to Indonesia in 2004 when he handed over humanitarian aid to the victims of Aceh tsunami.
"Indonesia is Egypt's close friend. President Mursi will soon visit Indonesia," the Special Envoy of Egypt's President, Tarek Afifi, said.
President Mursi also sends his love to Indonesian government and citizens amid the 67th anniversary of Indonesia on August 17. "Mursi will visit Indonesia on his capacity as Head of State," Afifi said.
Mohammed Mursi visited Aceh, Indonesia, in 2004 on his capacity as the leader of Ikhwanul Muslimin. He gave humanitarian aid from Egypt's people to the victims of tsunami.
"Dan tepatilah perjanjian dengan Allah apabila kamu berjanji dan janganlah kamu membatalkan sumpah-sumpah itu sesudah meneguhkannya…."(QS An-Nahl: 91)