Tropical Storm Kai-Tak in Philippines affects Indonesia
Wednesday, 15 August 2012, 20:41 WIB
Komentar : 0
Reuters/stringer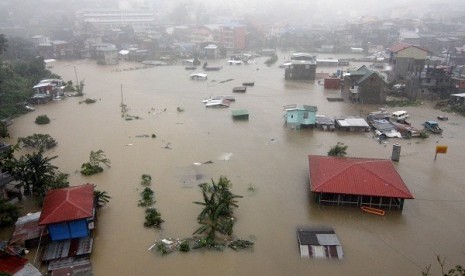 REPUBLIKA.CO.ID, PEKANBARU – Tropical storm called Kai-Tak which hit Philippines triggers the increasing of temperature in Indonesia. An analyst of Indonesian Meteorological, Climatological and Geophysical Agency in Pekanbaru, Aristya Ardhitama, said the maximum temperature in Sumatera, Indonesia reached 34 Celsius.
Ardhitama explained that the storm emerged on Monday and immediately gave significant effect to Philippines. Kai-Tak also caused the wind to move to the center of the storm that drew the clouds.
Besides high temperature, the storm also caused less rain in Indonesia than could lead to forest fires. The impact will not be significant. "But, if the storm passed Philippines and approached Indonesia, the impact would be severe," he said. The storm also caused high waves in Natuna and South China Sea.
Sebaik-baik menjenguk orang sakit adalah berdiri sebentar (tidak berlama-lama) dan ta'ziah (melayat ke rumah duka) cukup sekali saja.((HR. Ad-Dailami))