Flow of vehicles in Merak runs smoothly ahead of Eid al Fitr
Tuesday, 14 August 2012, 22:30 WIB
Komentar : 0
Republika/Agung Supriyanto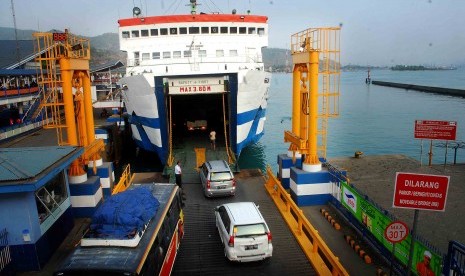 REPUBLIKA.CO.ID, MERAK - The flow of vehicles in Port of Merak connecting Java to Sumatra island on Monday, is running smoothly ahead of the Idul Fitri celebration next August 19. No queue of vehicles has formed as autos enter and depart from ships heading to Sumatra island. There is also no queue of passengers at ticket booths.
"Up until now, the transportation from Merak port (Banten) to Bakauheni port (Lampung province) and vice versa has run smoothly," General Manager of Merak port administrator Supriyanto said on Monday.
He added that there were 27 ships operating in Merak port, providing up to 85 roundtrip voyages from the port to Bakauheni. Based on data collected by Merak port officers, through Monday (Aug 13) morning 20,800 passengers had crossed from Merak port to Bakauheni.
Pulanglah pada istrimu, bila engkau tergoda seorang wanita (HR Muslim)