Survey: Many parties might endorse JK
Thursday, 09 August 2012, 21:30 WIB
Komentar : 0
Yudhi Mahatma/Antara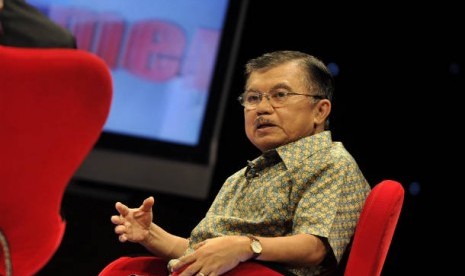 REPUBLIKA.CO.ID, JAKARTA - The result of Center for Strategic and International Studies (CSIS) survey says that Golkar politician and the former Vice President Jusuf Kalla obtain relatively high support from almost all parties to be the next 2014 presidential candidate. The support comes from Golkar, Democratic Party of Struggle (PDIP), Demokrat, Gerindra, United Development Party (PPP), Prosperous Justice Party (PKS), National Awakening Party (PKB) and National Mandate Party (PAN).
However, the endorsement from Golkar is not as high as its support for Abu Rizal Bakrie (Ical), PDIP for Megawati, and Gerindra for Prabowo. "But Golkar's support for Ical is slightly higher than for JK, the as happens also to PDIP's support to Megawati and Gerindra to Prabowo. JK relatively obtain the support from all parties," the Head of Politics and International Relations Department in CSIS, Phillips J Vermonte, said on Wednesday.
JK is seen as the strong figure on the next Presidential Election, but according to CSIS, JK does not sit in the first place to run for office. The survey says the highest electability is Prabowo with 14.5 percent followed by Megawati on 14.4 percent, JK on 11.1 percent, Ical on 8.9 percent, and Wiranto on 4.1 percent.
Salah satu di antara kalian tidak beriman sebelum ia mencintai saudaranya (atau beliau bersabda: tetangganya) seperti mencintai diri sendiri. (HR Muslim)