SBY: Problematic mining licenses to be put in order
Tuesday, 07 August 2012, 23:58 WIB
Komentar : 0
Antara/Kasriadi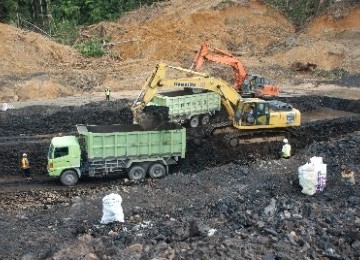 REPUBLIKA.CO.ID, JAKARTA - The government plans to fix mining licensing procedures and permits to avoid future problems, President Susilo Bambang Yudhoyono (SBY) said on Tuesday. At a press conference after a cabinet meeting SBY said in connection with that the government would give adequate more authority to provincial governors to put problematic licenses in their regions in order.
"I have taken a decision several days ago. We will put them in order and I will give more authority to governors to deal with it," he said.
SBY said a lot of mining permits have been issued by district heads or city mayors which are later found to be problematic.
"Frankly speaking we have seen a lot of problems happening during the current reform era such as mining licensing by city mayors or district heads. There are a lot of problematic mining permits. Not only hundreds but thousands permits," he said.
SBY said the efforts would be taken to secure the country from mismanagement. He said the government would encourage the development of downstream industries so that mining exports would have added value and benefit the country more. The President said the ministry of energy and mineral resources is currently renegotiating the working contracts made in the past that had caused losses to the country.
Janganlah kamu memberi makanan yang kamu sendiri tidak suka memakannya.((HR. Ahmad))