Politician: SBY, Megawati, and Bakrie could be "the king makers"
Tuesday, 07 August 2012, 23:10 WIB
Komentar : 0
Republika/Edwin Dwi Putranto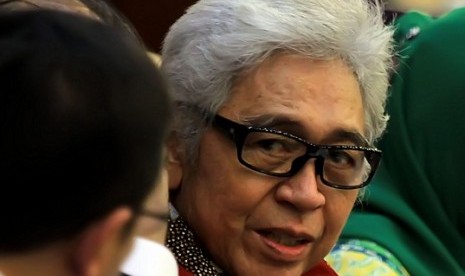 REPUBLIKA.CO.ID, JAKARTA - President Susilo Bambang Yudhoyono is considered as the most influential people and the determinant of 2014 presidential candidates, according to senior politician of Indonesian Democratic Party of Struggle (PDIP), Taufiq Kiemas.
"SBY knows who will be nominated as presidential candidates," Taufiq said on Monday.
The Speaker of People's Consultative Assembly also said that the Chairman of Golkar Aburizal Bakrie and The Chairman of PDIP Megawati Soekarnoputri also took important role. "They could become Indonesian king makers," he said.
A good presidential candidate, he continued, was well experienced, while the vice presidential candidate was better young. Taufiq hopes the former Indonesian Vice President Jusuf Kalla, Prabowo Subianto, and Wiranto do not propose themselves as presidential candidate. "Jusuf Kalla once lost when he was a vice president," he said.
He also admitted that the presidential candidate could emerge at any time and unpredicted. "Right now there is no proper presidential candidate," he said.
Wahai orang yang beriman! Janganlah kamu saling memakan harta sesamamu dengan jalan yang batil (tidak benar), kecuali dalam perdagangan yang berlaku atas dasar suka sama suka di antara kamu((QS. An Nisa 4 : 29).)