SBY: We are not silent over Rohingyas
Sunday, 05 August 2012, 23:20 WIB
Komentar : 0
Antara/Widodo S Jusuf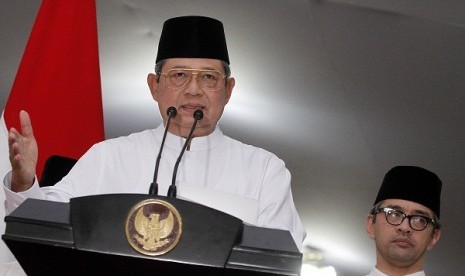 REPUBLIKA.CO.ID, BOGOR - President Susilo Bambang Yudhoyono (SBY) rejected the claim that Indonesian government had been silent over Rohingya issues. "We are working on it," SBY said in a press conference on Saturday.
Government, he continued, actively discuss the problem at regional and multilateral level including in the UN, ASEAN, and other forums. Also, government makes a bilateral diplomacy and relationship.
"When other countries reject Rohigya refugees and its asylum seekers, Indonesia welcomes them. Now Indonesia has 270 asylum seekers and 124 refugee of Rohingya," he explained.
SBY said that he had sent a letter about Indonesian expectations to Myanmar President Thein Sein. SBY proposes Myanmar to invite OIC (Organization of the Islamic Conference), apart from UN and foreign diplomats, to uncover the reality in Myanmar. "Hopefuly that OIC, UN, ASEAN, Indonesia, and Myanmar can cooperate to seek the proper solution," he said.
Senyummu kepada saudaramu merupakan sedekah, engkau memerintahkan yang ma'ruf dan melarang dari kemungkaran juga sedekah, engkau menunjukkan jalan kepada orang yang tersesat juga sedekah, engkau menuntun orang yang berpenglihatan kabur juga sedekah, menyingkirkan batu, duri, dan tulang dari jalan merupakan sedekah((HR Tirmidzi))