Jokowi-Ahok win the first round of Jakarta elections
Thursday, 12 July 2012, 23:51 WIB
Komentar : 0
Republika/Aditya Pradana Putra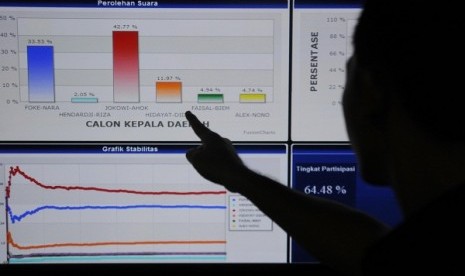 REPUBLIKA.CO.ID, JAKARTA - Joko Widodo (Jokowi) and his counterpart Basuki Tjahaja Purnama (Ahok), backed by Indonesian Democratic Party of Struggle (PDIP), took the lead of Jakarta governor election yesterday with 42 percent of the votes based on the quick count. They defeat incumbent Governor Fauzi Bowo and Nachrowi Ramli, which sit on the second with 34 percent of the votes.
"Jokowi-Ahok can change Jakarta," the supporter of Joko Widodo, Bonis, said after he voted for the next governor. Apparently, most people in Jakarta is longing for change in its beloved city.
Knowing that he took the lead, Jokowi delivered his gratitude to the voters. With none of them reach 50 percent of the votes, the winner will be concluded in the second round.
For the next strategy, Jokowi said he would met other candidates, as earlier before the vote he met another candidate Hidayat Nur Wahid-Didik J Rachbini, backed by Prosperous Justice Party. It seems that Jokowi will have more votes as the independent candidate Hendardji Soepandji said they would vote for Jokowi on the second round. Meanwhile, another independent candidate Faisal Basri-Biem T Benjamin claimed that they would not sell their votes to other candidates on the second round.
Rasulullah SAW melarang membunuh hewan dengan mengurungnya dan membiarkannya mati karena lapar dan haus.((HR. Muslim))