Parliament confirms appointment of OJK chairman and members
Wednesday, 27 June 2012, 19:12 WIB
Komentar : 0
Antara/Eko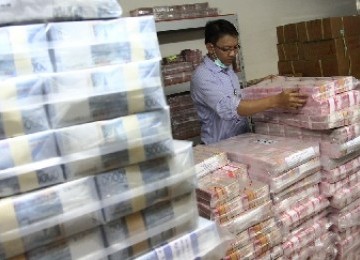 REPUBLIKA.CO.ID, JAKARTA - The Indonesian House of Representatives (DPR) confirmed the appointment of the chairman and members of the Financial Service Authority (OJK) for the 2012-18 period at a plenary meeting on Tuesday. The chairman of the new institution is Muliaman Hadad and the six members are Nelson Tampubolon, Nurhaida, Rahmat Waluyanto, Firdaus Djaelani, Ilya Avianti and Kusumaningtuti Soetiono.
"With the establishment of the OJK, Indonesia now has two institutions with extraordinary powers, namely OJK and KPK (Corruption Eradication Commission)," said House Deputy Speaker Priyo Budisantoso, who presided over the meeting.
The OJK is charged with supervising banks and non-banks, which involves keeping track of money worth up to 8,500 trillion IDR circulating in the country. "The OJK chairman and members have to work hard to develop the institution, particularly its human resources and policies," House Commission XI Chairman Emir Moeis said.
"OJK is a new institution that has not yet had an office and the staff to fill its organisational structure," he noted then added that the institution would be operational by 2014.
Allah pencipta langit dan bumi, dan bila Dia berkehendak (untuk menciptakan) sesuatu, maka (cukuplah) Dia hanya mengatakan kepadanya: Jadilah. Lalu jadilah ia. (QS.Al-Baqarah [2]:117)