Indonesia's proven oil deposit only 4.2 bln barrels
Saturday, 23 June 2012, 22:51 WIB
Komentar : 0
Republika/Wihdan Hidayat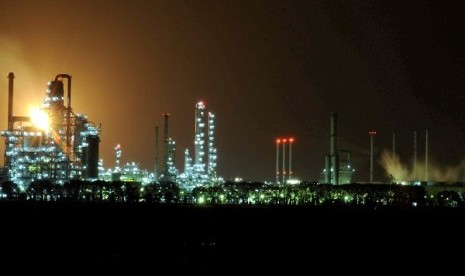 REPUBLIKA.CO.ID, BANDUNG - Indonesia`s proven oil deposit currently reached 4.2 billion barrels or 0.3 percent of the global deposit, an official said. The oil deposit tended to decline all the time, Hadi Purnomo, a member of the energy and mineral resources minister`s expert staff, said on Friday.
He said that the oil deposit contradicted public notion that Indonesia was rich in oil. Indonesia`s oil deposit was far smaller than that of Saudi Arabia which reached more than 264 billion barrels, he said.
According to the Global Energy Statistics Study 2011, countries which had an oil deposit of more than 200 billion barrels are Saudi Arabia and Venezuela, he said. He said Venezuela`s proven oil deposit reached 211.2 billion barrels.
The countries which had an oil deposit of 100-200 billion barrels were Iran (137 billion barrels), Iraq (115 billion barrels), and Kuwait (101.5 billion barrels), he said. "If new oil deposit is not found, Indonesia will import all of its oil needs in the next 20 years," he said.
Indonesia`s oil output reached 1.5 million barrels per day at the end of the 1990s, But the figure fell to 902 thousand barrels per day in 2011, he said. "The decline in oil production makes Indonesia unable to meet its oil needs which tend to increase all the time so the country must import oil," he said.
Ada seorang lelaki berkata kepada Nabi SAW: "Berilah aku nasihat!" Beliau menjawab: "Jangan marah" Orang itu berulangkali meminta supaya dirinya dinasihati, maka Rasulullah SAW tetap mengatakan: "Jangan marah!" (HR. Bukhari)