Cassa CN 295 to replace Fokker 27
Saturday, 23 June 2012, 22:19 WIB
Komentar : 0
Antara/Rosa Panggabean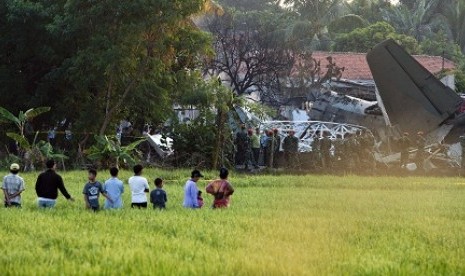 REPUBLIKA.CO.ID, JAKARTA - Indonesian Air Forces will replace five Fokker 27 with Cassa CN-295s, made by Dirgantara Indonesia (DI). "It is on renewing concept. There may be more of Cassa C-295s than the number of Fokker we replace," the Spokesman of Indonesian Air Forces, Azman Yusuf, said on Saturday.
He added the forces had planned to replace the old aircrafts with the new ones as cited in Indonesian Air Forces' minimum main power. The Air Forces has coordinated the renewal of the aircrafts the Ministry of Defense and House of Representatives.
Meanwhile, President Susilo Bambang Yudhoyono suggests the Air Forces not to use Fokker 27 following the crash in Halim Perdanakusuma Airbase.
"As the Head of State, I ask not to use F27. We have plan to replace the aircrafts with N295. We also cooperate with other countries to buy C130," SBY said on Saturday.
Fokker-27 crashed in Rajawali housing complex near Halim Perdanakusuma Airbase on Thursday. About 11 people lose their life in this accident.
Reporter : Satya Festini/Ghalih Huriarto
Redaktur : Yeyen Rostiyani
Sumber : Antara
Jauhkanlah diri kamu daripada sangka (jahat) karena sangka (jahat) itu sedusta-dusta omongan, (hati)(HR Muttafaq Alaih )