A Fokker-27 crashes in Halim Airport
Thursday, 21 June 2012, 22:53 WIB
Komentar : 0
Republika/Adhi Wicaksono/Agung Fatma Putra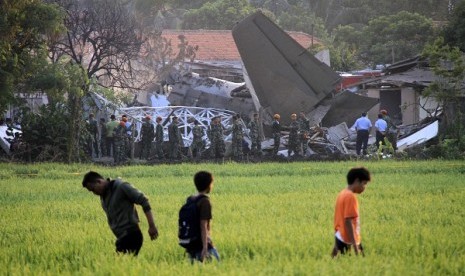 REPUBLIKA.CO.ID, JAKARTA - A Fokker 27 airplane crashed into Rajawali air forces housing complex near Halim Perdanakusuma Airport on Thursday at around 02.15 pm Western Indonesian Time (WIB). The plane was conducting a routine exercise before it crashed and damaged six houses. The cause of the crash is still under investigation.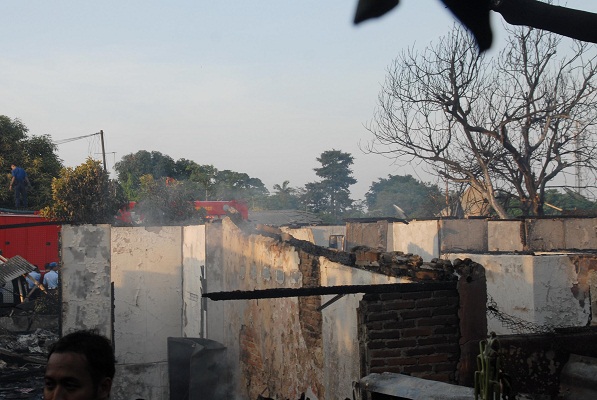 Until this evening, at least eight people were reportedly dead. The six other people who died in crash are Mayor Heri Setiawan, First Lieutenant Syahroni, Captain Agus SW, Sergeant Mayor Sihmulato, Sergeant Wahyudi and Sergeant Purwo.
"Two children also become the victims. They are Bian (8 years) and a three-month baby," the authorities in Halim Hospital said.
According to the Head of Information in Indonesian National Army, Iskandar Sitompul, the crashed plane was old aircraft. "It still use propeller," he said.
Indonesian Air Force First Marshal Asman Yunus at a press conference in Halim Perdanakusuma airbase said, a local resident was also injured in the crash. "The injured man has been brought to the hospital," he added.
Reporter : Asep Nurzaman/Satya Festiani/Adi Wicaksono
Redaktur : Yeyen Rostiyani
Sumber : Antara
"Tidak masuk surga orang yang ada dalam hatinya seberat biji sawi dari kesombongan"((HR Muslim))