Joint team backs to Malaysia
Saturday, 05 May 2012, 00:44 WIB
Komentar : 0
Antara/Fanny Octavianus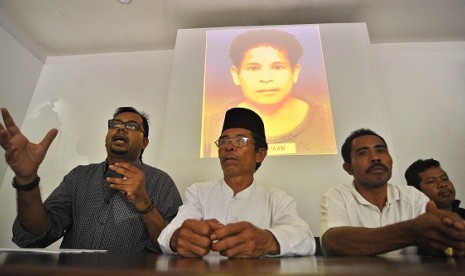 REPUBLIKA.CO.ID, JAKARTA –The Ministry of Foreign Affairs will send back its joint team to Malaysia to investigate the death of Indonesian workers in Malaysia. "The team will follow the next process. Attorney and Indonesian Police Department are also included on the team," the Spokesman of the Ministry for Foreign Affairs, Michael Tenne, said on Friday.
The team will go to Malaysia this weekend, while Malaysia Police Department also established one investigation team. "The team gathers information about the case and meets the hospital unit. From the investigation, the autopsy is in line with the re-autopsy in Indonesia," Tene said.
Malaysian Police also apologizes about the case and will investigate, in accordance with criminal procedure court. The Ministry has also communicated with the family of the victim.
"We have given the assistance to the family. We understand that family want to know more about the autopsy result and we will facilitate it," Tene said.
Anas Ra, pembantu rumah tangga Nabi Saw berkata, " Aku membantu rumah tangga Nabi Saw sepuluh tahun lamanya, dan belum pernah Beliau mengeluh "Ah" terhadapku dan belum pernah Beliau menegur "kenapa kamu lakukan ini atau kenapa tidak kau lakukan ini.((HR. Ahmad))