Ban asks helicopter for Sudan
Tuesday, 20 March 2012, 22:17 WIB
Komentar : 0
REUTERS/Supri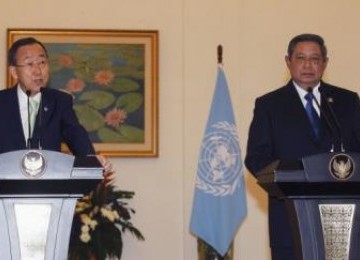 REPUBLIKA.CO.ID, BOGOR – Secretary-General of United Nation, Ban Ki-moon, explicitly asked Indonesia to help Sudan. "I ask Indonesian President to make some more contribution by grant some helicopter for Sudan," he said on Tuesday.
His remark gets the applause from SBY and other audiences. Indonesia had been giving aid through peacekeeping forces and in Darfur, Sudan, the contingent had built a good relationship with local vicinity, Ban said.
Ban admitted, at the first time, the UN peacekeeping force found some rejection and objection from local people. The people of Darfur, who were not aware that the peacekeeping force trying to protect them, even stoned them at the first time they arrived. But then the relations elevated to a better stage.
He told a story about how the struggling of Indonesian UN peacekeeping force to bring a pregnant woman passing Sudanese military. "Indonesian peacekeepers made a bridge with local vicinity," he said. For the last three years, Indonesia has assisted several aids. To Sudan, for example, Indonesia handed two tactic cars last year.
Tidak ada suatu rezeki yang Allah berikan kepada seorang hamba yang lebih luas baginya daripada sabar.((HR Al Hakim))