Indonesian MoD strengthens Indonesian arsenal
Wednesday, 07 March 2012, 18:56 WIB
Komentar : 0
Antara/Rosa Panggabean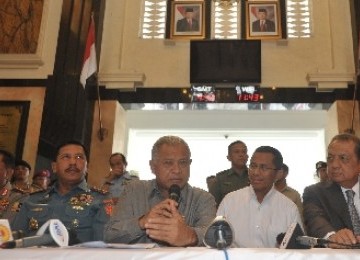 REPUBLIKA.CO.ID, JAKARTA – Indonesian Ministry of Defense makes the minimum essential force (MEF) of Indonesian armed force (TNI) come to life by signing the Memorandum of Understanding (MoU) on arsenal procurement with several local defense industries. The MoU values 1.3 trillion IDR, the head of defense facilities agency in the Ministry of defense, Major General Ediwan Prabowo, said.
The industries are PT Dirgantara Indonesia (DI), PT Palindo Marine, PT Sari Baharidan, PT Pindad, and PT Infra RCS Indonesia. The cooperation is conducted as a commitment to support industrial development in Indonesia. These companies have received procurement orders, such as Helicopter Bell 412 EP, Helicopter for Indonesian Army, Rocket FFAR, Bomb P100, Radar/ECDIS, the Platform of fast missile craft-40, and guided missile. The Ministry hopes the arsenal procurement can be fulfilled in time. Thus the MEF could realize in 2014.
The contract signing was done by the Minister of Defense, Purnomo Yusgiantoro; Commander-in-chief of the Indonesian military, General Agus Suhartono; Chief of the Indonesian National Police, General Timur Pradopo; the Minister of Industry, MS Hidayat; the Minister of State-owned Enterprises, Dahlan Iskan; and the Deputy Minister of Defense, Sjafrie Sjamsuddin.
Dan janganlah kamu campur-adukkan yang hak dengan yang bathil dan janganlah kamu sembunyikan yang hak itu sedang kamu mengetahui.(QS Al-Baqarah: 42)