Indonesia to propose anti-religion denigration protocol at the UN
Saturday, 22 September 2012, 23:14 WIB
Komentar : 0
UN.org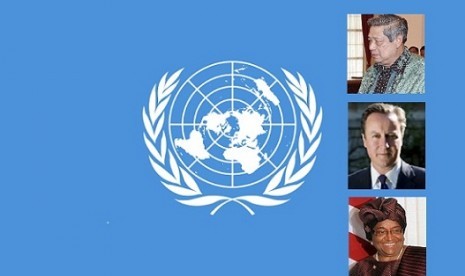 REPUBLIKA.CO.ID, JAKARTA - Indonesia will propose an international protocol against desecration of religion to prevent conflicts and maintain world peace during the upcoming UN General Assembly meeting. President Susilo Bambang Yudhoyono (SBY) reiterated the plan at a press conference on Saturday, before leaving for New York to attend the UN meeting.
He said an international protocol on anti-religion denigration was needed to anticipate negative developments, such as those recently occurring in reaction to incidents of religion denigration that might cause conflicts and tension in the relations between different religious followers and civilizations.
"Indonesia has a moral obligation to convey its view and appeal, and probably also participate in, creating an international protocol on how we could prevent or reject actions or initiatives that could be categorized as denigrating a religion, any religion," he said.
SBY, during his visit to the US, also plans to discuss continuation of social development after the completion of the Millennium Development Goals program in 2015. As a co-chairman the UN meeting with President of Liberia Ellen Johnson Sileaf and the British Prime Minister David Cameron, SBY will hold the first meeting of the High Level Panel on the Post-2015 Development Agenda consisting of 23 members.
SBY is scheduled to be in the US until September 30 and plans to conduct bilateral and multilateral meetings while there. Further, he is scheduled to attend Indonesia Investment Day at the New York Stock Exchange and meet with investors and US business leaders, as well as receive awards from the US-ASEAN Business Council. He will also meet with a number of heads of state on the sidelines of the opening session of the UN meeting.
Siapa yang mengambil hak orang lain walau sejengkal tanah akan dikalungkan hingga tujuh petala bumi(HR Bukhori-Muslim)