Australian-Indonesian firms to build new Australian Embassy
Wednesday, 19 September 2012, 23:59 WIB
Komentar : 0
infopublik.kominfo.go.id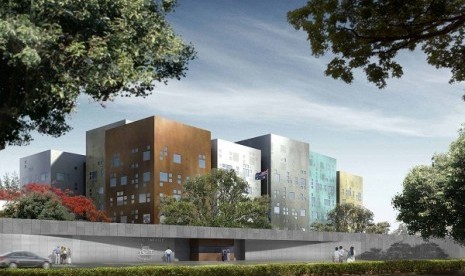 REPUBLIKA.CO.ID, JAKARTA - A joint venture between PT Leighton Contractors Indonesia and PT Total Bangun Persada has won the 230 million AUD contract to build Australia's new Embassy in Jakarta. The new Embassy complex will be built on a 40,500 square metre site in Jakarta's Patra Kuningan area and will be Australia's largest Embassy complex anywhere in the world.
"The scale of the project underscores Australia's enduring interests in our partnership with Indonesia," said Greg Moriarty, Australia's Ambassador to Indonesia in a press release from the embassy.
"We would like to thank the Indonesian government and in particular the Jakarta Provincial Government, for their generous support of this project."
The design of the new Embassy chancery will be a creation of well-known Australian architects Denton Corker Marshall and engineers Aurecon Australia. It will combine functionality, a high degree of environmental awareness and the highest standards of safety and security for staff, residents and visitors.
Construction work will start immediately and is scheduled to be completed by the middle of 2015. Construction will stimulate Jakarta's economy and most of the specialist sub-contractors and major suppliers will be Indonesian companies.
Much of the construction material and plant and equipment will be purchased locally. At the peak of construction activity, up to 800 Indonesian workers are expected to be on site, providing a major boost to local employment.
Demi Allah, kami tidak akan mengangkat seorang pun yang meminta sebagai pemimpin atas tugas ini dan tidak juga seorang yang berambisi memperolehnya.(HR Muslim )