Wow... US backs Indonesia to chair APEC 2013
Tuesday, 04 September 2012, 23:49 WIB
Komentar : 0
Republika/Tahta Aidilla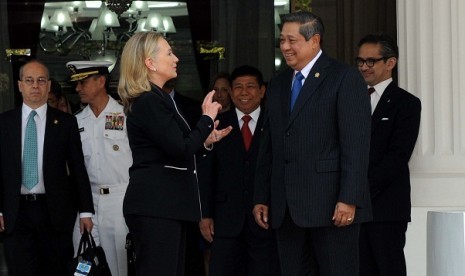 REPUBLIKA.CO.ID, JAKARTA - US Secretary of State Hillary Clinton, during her meeting with President Susilo Bambang Yudhoyono (SBY), reportedly expressed her government`s support to Indonesia`s chairmanship of APEC in 2013, according to a minister. Clinton and SBY plan to attend APEC summit in Vladivostok, Russia, on September 8-9.
"The US support to Indonesia`s chairmanship of APEC in 2013 was also conveyed, as we all know that Indonesia will become the APEC chairman next year," Indonesian Foreign Affairs Minister Marty Natalegawa said here on Tuesday. "At the meeting with the President, Hillary expressed appreciation for his role in Myanmar's reform and democratization," he continued.
"Hillary praised Indonesia`s efforts towards resolving the conflict between Rohingya and Rakhine ethnic communities in Myanmar," he added.
Marty stated that the US Secretary of State also lauded Indonesia's role in facilitating talks among ASEAN member countries on the South China Sea issue. The head of state and Clinton also discussed ways to improve the US-Indonesia Comprehensive Partnership. "President Yudhoyono expressed hope that the good relations between Indonesia and the US can be more beneficial and comprehensive in the future," Marty said.
Tidak ada suatu rezeki yang Allah berikan kepada seorang hamba yang lebih luas baginya daripada sabar.((HR Al Hakim))