Indonesia and Japan discuss on Palestinian capacity building
Monday, 03 September 2012, 21:09 WIB
Komentar : 0
Reuters/Mohamad Torokman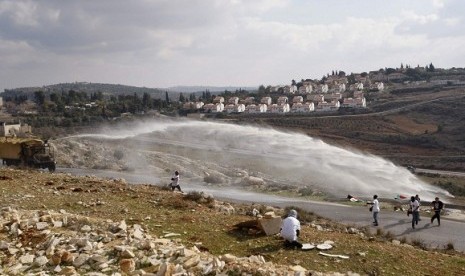 REPUBLIKA.CO.ID, JAKARTA - The Coordinating Minister of Politics, Laws, and Human Rights Djoko Suyanto held courtesy call with Japan's Minister of Foreign Affairs Koichiro Gemba. They discussed on capacity building for Palestine, the third Secretary of Information, Social, and Culture at Indonesian Embassy to Tokyo, Hardiyono Kurniawan, said.
"Besides discussing on ASEAN bilateral issues, ASEAN Regional Forum (ARF), and Bali Democracy Forum, they also talked on the aid for Palestine," Kurniawan said on Monday.
Earlier, Minister Djoko Suyanto also met with Japan's Prime Minister Yoshihiko Noda on Wednesday. On his meeting with Minister Gemba, Djoko Suyanto emphasized on the importance of the improvement of strategic partnership of both countries. Kurniawan said that Minister Gemba also explained the Japan's new police on multiple entry visas for Indonesian citizens.
Minister Djoko Suyanto also discussed on the police cooperation, mainly on anti-terrorism and cybercrime, with Chairman of National Public Safety Agency Jin Matsubara. Suyanto also had a chance to meet the President of National Institute for Defense Studies (NIDS) Nobushige Takamizawa and talked on the opportunities of education and defense training. He also discussed on investment climate in Indonesia with the researcher from IDE JETRO Dr Yuri Sato and lecturer from National Graduate Institute for Policy Studies (GRIPS) Yoshihiro Otsuji.
Adapun orang-orang yang kafir dan mendustakan ayat-ayat Kami, mereka itu penghuni neraka; mereka kekal di dalamnya.(QS Al-Baqarah: 39)