Indonesian Independence Day messages from world leaders
Friday, 17 August 2012, 22:30 WIB
Komentar : 0
Antara/Andreas Fitri Atmoko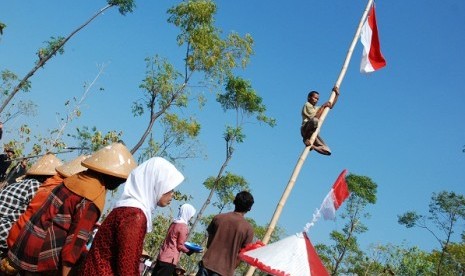 REPUBLIKA.CO.ID, JAKARTA – As Indonesia celebrates its Independence Day on August 17, some world leaders send their messages to Indonesian people. Among them is message from Her Majesty Queen Elizabeth II.
"It gives me great pleasure to send my congratulations on the celebration of your National Day, together with my best wishes for the happiness and prosperity of the Government and people of the Republic of Indonesia in the coming year," as cited in a press release form the British Embassy in Jakarta.
While Secretary of State Hillary Rodham Clinton noted in US Department of States' official site, "On behalf of President Obama and the people of the United States, I am delighted to send best wishes to the Indonesian people on the 67th anniversary of your independence this August 17."
Clinton praised Indonesia that over the past decade, the country had emerged as a thriving democracy and a regional and global leader. She also appreciated Indonesia's commitment to the Association of Southeast Asian Nations (ASEAN).
"We look forward to building even closer ties between our governments and people under our Comprehensive Partnership, and to continue our work together promoting peace, prosperity, and democracy around the world. I wish all Indonesians a safe and joyous celebration," she added.
From Russia, President of the Russian Federation Vladimir Putin forwarded congratulatory message addressed to his counterpart, Susilo Bambang Yudhoyono (SBY). "With our joint efforts the potential of mutually beneficial bilateral cooperation will continue to be fully realized for the benefit of our States and Peoples, in the interest of stability and security in the Asia Pacific and in the world at large," Putin cited in a press release from the Russian Embassy in Jakarta.
"The Embassy of the Russian Federation in the Republic of Indonesia also congratulates Indonesian people with the Independence Day and with the forthcoming Idul Fitri," the release added.
Sesungguhnya Kami telah mengutus (Muhammad) dengan kebenaran; sebagai pembawa berita gembira dan pemberi peringatan, dan kamu tidak akan diminta (pertanggungjawaban) tentang penghuni-penghuni neraka. ((QS.Al-Baqarah [2]:119))