Kalla: We must uphold impartiality in helping Rohingya
Wednesday, 15 August 2012, 21:37 WIB
Komentar : 0
Republika/Aditya Pradana Putra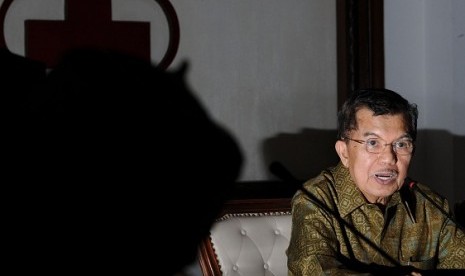 REPUBLIKA.CO.ID, JAKARTA – The head of Indonesian Red Cross (PMI) Jusuf Kalla discussed the plan of aid dispatch for Rohingya refugee in Myanmar with several humanitarian organizations and the media. "Indonesian Red Cross is offering humanitarian aids here. We must maintain the principals of impartiality and independence," Kalla said on Tuesday.
Kalla has reviewed four reports related to Rohingya conflict issued by Rohingya people, Myanmar Government, Human Rights Watch, and the UN. "An event has much vague information. We must thoroughly see the source of the information," he said.
The discussion was also attended by some representatives from Medical Emergency Rescue Committee (MER-C), Fast Action Response (ACT), Dompet Dhuafa, Indonesian Humanitarian Forum (HFI), and National Board of Zakat (BAZNAS). Kalla's effort to open diplomatic way to help Rohingya has gained some appreciations.
"I appreciate an Indonesian figure like Jusuf Kalla to lead humanitarian diplomacy. Our discussion with the Ministry for Foreign Affairs several days ago said that Indonesian humanitarian diplomacy must be forwarded," A representative of ACT, Imam Akbari, said.
Allah melaknat orang yang menyuap dan orang yang menerima suap(HR Muslim )