Natalegawa: Ramallah incident shows the real Israel
Wednesday, 08 August 2012, 22:30 WIB
Komentar : 0
Reuters/Baz Ratner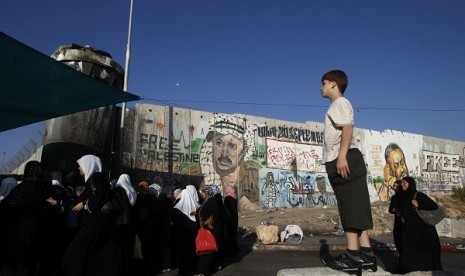 REPUBLIKA.CO.ID, JAKARTA - The incident in Ramallah when Israel barred ministers from Malaysia, Indonesia, Bangladesh, Cuba and Algeria from travelling to Ramallah showed the real Israel, Indonesian Minister for Foreign Affairs Marty Natalegawa said.
"Israel is a country or entity which does not have any courage to face reality," Natalegawa said on Tuesday.
The ministers planned to attend two-day meeting of the movement's Palestine Committee in Ramallah at which they were poised to sign a declaration in support of Palestinian bid to upgrade their UN status from observer to non-member state.
"Israel shows the occupancy towards Palestine. When Palestine is willing to interact with international, or in this case Non-Aligned Movement, Israel makes it harder," Marty explained.
For Indonesia, this rejection creates a new momentum to encourage UN to upgrade Palestine status in UN. Besides that, Indonesia also helps Palestine in the form of capacity building and cash assistance.
"Indonesia is committed to improve the capacity building and quality of human resources of Palestine to prepare their victory," he said as quoted by AFP news agency.
Jauhkanlah diri kamu daripada sangka (jahat) karena sangka (jahat) itu sedusta-dusta omongan, (hati)(HR Muttafaq Alaih )