Minister: Badminton affects Indonesian achievement in Olympics
Saturday, 04 August 2012, 00:15 WIB
Komentar : 0
Reuters/Bazuki Muhammad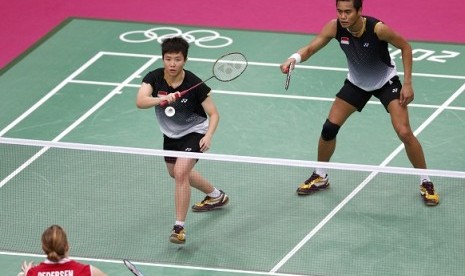 REPUBLIKA.CO.ID, LONDON - The Minister of Youth and Sports Andi Mallarangeng said that Indonesian failure on maintaining gold medal in Olympics was related with its dependence upon badminton. If badminton athletes fell down, Andi said, Indonesian achievement would follow.
"We depend badly on badminton. The fluctuation in badminton achievement affect Indonesia in Olympics," he said as reported by Abdullah Sammy from London.
Indonesian badminton doubles Tontowi/Ahmad and Liliyana Natsir only sit on the third in the world. As a solution, government will not only focus on badminton, but also on other branches of sports.
Indonesian badminton single player Taufik Hidayat urges the government to evaluate itself following Indonesian failure on achieving gold medal. He assessed the Ministry of Youth and Sports as the responsible party.
"Government should evaluate why the number of our athletes in Olympics keeps decreasing," Taufik said.
Sedekah dapat menghapus dosa sebagaimana air memadamkan api(HR. Tirmidzi)