Indonesian Buddhists condemn Myanmar government
Monday, 30 July 2012, 23:00 WIB
Komentar : 0
Andrew Biraj/Reuters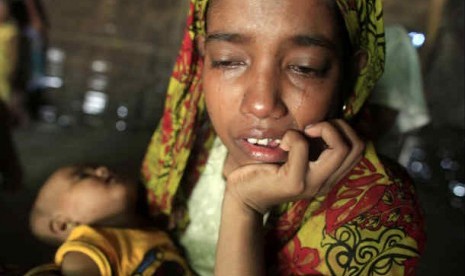 REPUBLIKA.CO.ID, JAKARTA – Buddhist Indonesia Legal Aid condemns the Myanmar government over the violence towards Rohingya Muslim in the country. The Chairman of Buddhist Indonesia, Budiman Sudharma, said the Myanmar government's repressive act was a human right violation.
Sudharma said the Myanmar government act was not in accordance with UN Charter signed at San Francisco Conference on June 26, 1945. It also violates Universal Declaration of Human Rights declared by United Nations General Assembly on December 10, 1948.
According to the declaration and charter, Myanmar government must protect its citizen without background dicrimination. "Myanmar government has never taken a firm step. Despite its minority status, Rohingya Muslim should be protected and have a decent life," he said.
He added that if the conflict was ignored, it could lead to horizontal conflict. Sudharma also urges Myanmar Buddhist not to be provoked and involved in any repressive act.
Janganlah kamu memberi makanan yang kamu sendiri tidak suka memakannya.((HR. Ahmad))