Air Asia acquires Batavia Air
Thursday, 26 July 2012, 22:00 WIB
Komentar : 0
Republilka/Wihdan Hidayat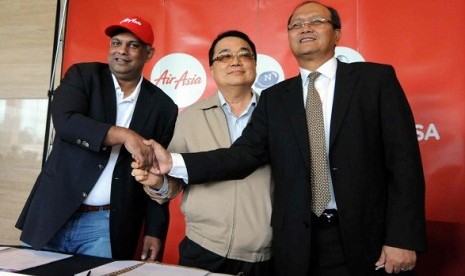 REPUBLIKA.CO.ID, JAKARTA - AirAsia Berhad, through its subsidiary AirAsia Investment Ltd, and Fersindo Nusaperkasa acquire Metro Batavia on Thursday. The acquisition includes the airline of Batavia Air and aviation training center, Aero Flyer Institute (Metro Batavia Group).
Fersindo Nusaperkasa Company will own 51 percent of the shares, while the rest is owned by AirAsia Berhad. "Batavia Air must take a measurement in the form of corporate act. We choose to cooperate with Tony Fernandes (CEO Group AirAsia Berhad)," said President Director of Batavia Air, Yudiawan Tansari.
The President Director of Fersindo Nusaperkasa, Dharmadi, explained the acquisition would be conducted on two stages. The first stage is the acquiring of 76.95 percent. The second is acquiring the rest. Also, the price of Aero Flyer Institute is a million USD.
"The acquisition is expected to complete on the second quarter of 2013," he said.
The CEO Group AirAsia Berhad, Tony Fernandes, said the acquisition was a step to speed up the plan on airline expansion in Indonesia. Tony said Indonesian travel industry was the most interesting market in Asia. The growth of Indonesian tourism is among the reasons.
Rasulullah SAW melaknat tukang pemberi suap, menerima suap, dan menjadi perantara diantaranya(HR Tirmidzi)