Govt issues regulation on logo of Indonesian batik
Tuesday, 24 July 2012, 23:19 WIB
Komentar : 0
Republika/Wihdan Hidayat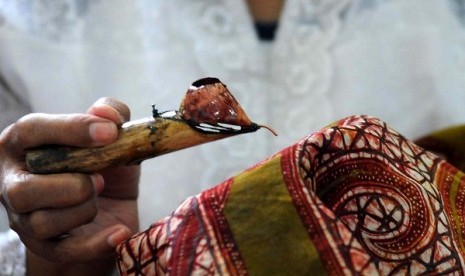 REPUBLIKA.CO.ID, JAKARTA - The government has issued a ministerial decree on the use of batikmark logo for Indonesian batik. "The preservation of batik should be carried out by every party. The government has done various efforts by providing legal protection, quality guarantee, and identity for Indonesian batik. The government has registered Indonesia`s Batikmark logo," Industry Minister MS Hidayat said in a batik exhibition Tuesday.
Many Indonesians have earned their living by engaging in batik businesses. Although batik is mostly produced by small-scale entrepreneurs, the batik businesses have potential, a strategic role and a special place to help develop the national economy which is growing currently.
"We must be proud that the international response toward Indonesia`s batik is very positive and it has been recognized by Unesco as an intangible cultural heritage since 209," the minister said.
However, the minister is concerned about the human resources and regeneration of hand-made batik producers. In order to preserve batik, the government urges the younger generation to be actively involved in the hand-made batik production.
Ada seorang lelaki berkata kepada Nabi SAW: "Berilah aku nasihat!" Beliau menjawab: "Jangan marah" Orang itu berulangkali meminta supaya dirinya dinasihati, maka Rasulullah SAW tetap mengatakan: "Jangan marah!" (HR. Bukhari)