No oil fuelled power plant in Java starting August
Saturday, 14 July 2012, 22:36 WIB
Komentar : 0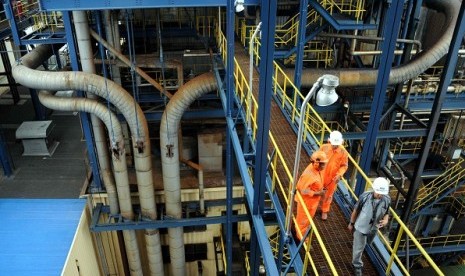 REPUBLIKA.CO.ID, JAKARTA - Thermal power plants belong to state electricity company PT Perusahaan Listrik Negara (PLN) in Java will no longer use fuel oil starting August 2012. Thermal power plant in Muara Karang, North Jakarta, will be the last to use fuel oil, while thermal power plants in Gilimanuk, Pesanggaran, and Pemaron, Bali still use fuel oil.
"The Muara Karang power plant currently uses around 700 kiloliters of gas per day. But it will stop using fuel oil starting August," Head of PLN Fuel Oil and Gas Division Suryadi Mardjoeki said recently.
The Muara Karang power plant will receive a maximum gas supply of 165 million metric standard cubic feet per day (mmscfd) from floating LNG terminal off the northern coast of Jakarta. The results of an audit made by the State Audit Board (BPK) show the country was estimated to have suffered a loss of 17.9 trillion IDR in 2009 and 19.6 trillion IDR in 2010 from the operation of eight fuel oil power plants. Most of the eight power plants are found in Java, namely Muara Karang, Muara Tawar, Tanjung Priok, Grati, Pasuruan, and Tambak Lorok.
Deputy manager of operation planning of PLN`s Java-Baii grid Adi Purwanto said power plants` fuel oil consumption in Java and Bali will reach 1.9 million kiloliters in 2012. The power plants` fuel oil consumption would reach 1.2 million kiloliters until July 2012. "The remaining 700 thousand kiloliters will mostly be used for power plants in Bali," he said.
"Dan tepatilah perjanjian dengan Allah apabila kamu berjanji dan janganlah kamu membatalkan sumpah-sumpah itu sesudah meneguhkannya…."(QS An-Nahl: 91)