Garuda Indonesia becomes an official partner of Liverpool FC
Wednesday, 11 July 2012, 22:51 WIB
Komentar : 0
Republika/Yeyen Rostiyani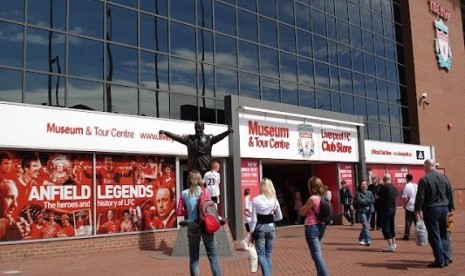 REPUBLIKA.CO.ID, JAKARTA - National airline of Indonesia, PT Garuda Indonesia (GIAA), officially sponsors the Liverpool Football Club and the Athletic Grounds Limited. Garuda will become the official partner of the Reds.
"Garuda is given the right as the Official Partner of Liverpool Football Club and official Global Airline Partner of Liverpool Football Club," said the Corporate Secretary of Garuda, Pujobroto, on Wednesday. The agreement which managed the cooperation was signed on Monday.
The cooperation does not include the material transaction as ruled on Indonesia Capital Market Supervisory Agency (Bapepam LK) number IX E.2. The logo of Garuda Indonesia will be seen on Anfield Stadium, the home of Liverpool FC.
Seseorang bertanya kepada Rasulullah SAW Islam manakah yang paling baik? Rasulullah bersabda: Memberikan makanan, mengucap salam kepada orang yang engkau kenal dan yang tidak engkau kenal. (HR Muslim)