Deputy minister: Inflation rate under control
Thursday, 28 June 2012, 19:54 WIB
Komentar : 0
Reuters/Supri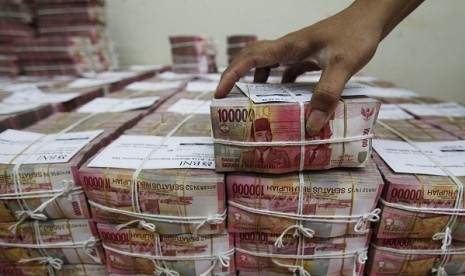 REPUBLIKA.CO.ID, JAKARTA - Deputy Finance Minister Mahendra Siregar said the inflation rate up to the middle of this year was still under control and in accordance with the government`s estimates. "I believe our inflation has been relatively well under control in the sense that weaknesses of several chief commodities such as energy and in addition to some movements in the rupiah," he said on Wednesday night.
But Mahendra reminded that the current global economy was still difficult to predict and its impact could affect growth and other macro consumption in the amended State Budget including the inflation rate. "But overall I believe things are still favorable, but we should not be careless, otherwise it would be difficult in such a situation," he said.
Earlier Finance Minister Agus Martowardojo said that this inflation rate by the end of the year might reach below five percent and not surpassing the assumed 6.8 percent in the amended State Budget. He said it could be realized because the May inflation stood at 0.07 percent, and 5.15 pct in the new calendar year, and 4.45 pct and 4.45 percent year on year.
"I hope this could be maintained, and the inflation could become below five percent," the finance minister said.
He said the inflation rate was too low as the public had started to understand that the subsidized oil price adjustments had been canceled preserving purchasing power. National Development Planning Minister/Head of the National Development Planning Agency (Bappenas) Armida S Alisjahbana also said that in the case of this inflation trend the year-end inflation might reach 5.3 percent.
But in the absence of an increase in subsidized fuel oil and electricity prices, the effects of the inflation would be less and the inflation rate might reach below five percent. The government has set the inflation rate assumption in this year`s amended State Budget at 6.8 percent, with a prediction that subsidized fuel oil price will increase. Bank Indonesia in the meantime decided to maintain the BI Rate at 5.75 percent believed still to be consistent with the inflation predicted to remain low and under control at 3.5-5.5 percent in the 2012-2013 period.
Tidak ada suatu rezeki yang Allah berikan kepada seorang hamba yang lebih luas baginya daripada sabar.((HR Al Hakim))