Some 400 world historians to meet in Solo
Wednesday, 27 June 2012, 19:02 WIB
Komentar : 0
Antara/Akbar Nugroho Gumay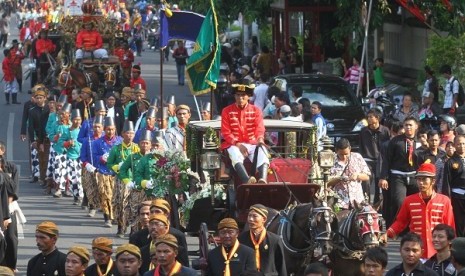 REPUBLIKA.CO.ID, JAKARTA - Some 400 historians from all over the world will gather in the Central Java city of Solo on July 2-6 for the 22nd conference of the International Associations of Historian of Asia" (IAHA). This is the third time for Indonesia to host IAHA conference.
"That Indonesia, particularly Solo has been chosen to host the IAHA conference proves that this country is superpower in terms of culture," Deputy Education and Culture Minister Wiendu Nuryanti said on Tuesday.
Previously, Indonesia hosted the biennial meeting in Yogyakarta in 1974 and later in Jakarta in 1998. This year`s conference is themed "Remembering the Past, Experiencing the Present, Exploring the Future".
Although the conference will discuss the Asian history, a number of historians from outside Asia including five from The Netherlands, six from the United States, one from Portugal, three from Germany, one from Canada, three from Australia, two from Sweden and one from Britain would present their papers at the five-day meeting. Wiendu expressed hope that the conference would develop into a fortress of culture and would not be a mere history dialog.
Chief of the conference`s steering committee Taufik Abdullah who is also senior Indonesian historian said 11 sub-themes would be discussed at the conference. "One of the interesting sub-themes is medical history and healthcare. The present historians discuss not only political issues in the past but also developments in the history of Asian medical history," he said.
The other sub-theme that were likely to cause a heated debate among scientists would be "Culture: Heritage of the Past, Trends in the Present" and "Movement of the People in the Border Areas", he said.
Rasulullah saw. bersabda: Janganlah engkau berdusta mengatasnamakan aku, karena sesungguhnya orang yang berdusta atas namaku, maka ia akan masuk neraka.(HR. Muslim)