Pertamina to import African and Australian LNG
Monday, 25 June 2012, 21:19 WIB
Komentar : 0
Antara/Zabur Karuru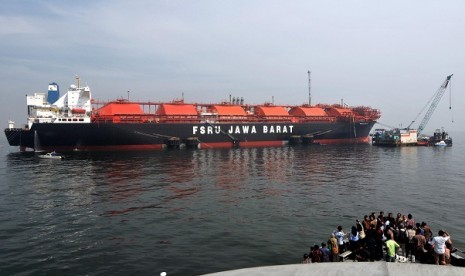 REPUBLIKA.CO.ID, JAKARTA - Pertamina eyes on the import of liquid natural gas (LNG) from Africa and Australia in the amount of a million metric tonnes per year, according to the Vice President Commercial and Business Development of Directorate Gas in Pertamina, Djohardi Angga Kusumah.
"It has not disclosed yet, but we have discussed it with both of them," Kusumah said on Friday.
Pertamina hopes the discussion on LNG import will be finished on 2013 and the LNG import contract will be on a long term, of ten years. West Java will become the priority of LNG distribution from Africa and Australia as the domestic supply cannot cover the needs.
The need of LNG in West Java is about 485 metric cubic feet per day (mcfd). But until now, Pertamina and the LNG producers still disagree on the price as the producers demanded a higher price.
Pertamina allocates 66 million USD for his project. If the agreement is implemented, a million metric tonnes of LNG will be equal to 1.5 cargo of LNG per month in which the price of a cargo is 33 million USD.
Besides Africa, Pertamina will also import the oil from Middle East for a short term. Then on 2017, Pertamina will eye on the gas from American continent.
Sesungguhnya Kami telah mengutus (Muhammad) dengan kebenaran; sebagai pembawa berita gembira dan pemberi peringatan, dan kamu tidak akan diminta (pertanggungjawaban) tentang penghuni-penghuni neraka. ((QS.Al-Baqarah [2]:119))