Wearing religious symbols during legal process draws some concerns
Wednesday, 20 June 2012, 23:49 WIB
Komentar : 0
Republika/Adhi Wicaksono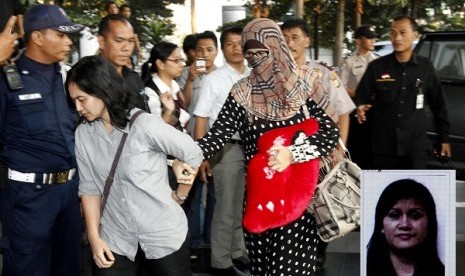 REPUBLIKA.CO.ID, JAKARTA – Wearing religious symbols, ie hijab or veil, by corruption convict could be regarded as an insult to religion. By doing so, the convicts tried to "rehabilitate" their reputation before the public, an expert on sociology of Universitas Gadjah Mada (UGM), Arie Sudjito, said that on Wednesday.
"It is another way to discredit a religion," he said. Yet, he warned that wearing such religious symbols was a personal matter that nobody could object their choice. He expected that the trial process and apparatus involved in the legal process would not deceived by those symbols.
Meanwhile, Deputy Secretary General of Indonesian Council of Ulama (MUI), Tengku Zulkarnaen, expected the government to provide special clothes for the convicts appearing in court after seeing them wearing Islamic clothes only during the trial. He expressed his concern that Islamic cloth tended to be misused by those convicts.
"Veil and hijab that they use is only a mask," he said. One example is Afriyani Susanti, the driver accused of killing nine pedestrians, was seen wearing a black hijab immediately after she hit the victims. Another case is Neneng Sri Wahyuni -allegedly involced in corruption case- was wearing hijab and having her face covered while heading to the police headquarter.
"It is good that they cover their body, but it also raises question towards Muslim's reputation. It could prejudice Muslim," he said.
Reporter : Indah Wulandari/Yulianingsih/Satya Festiani
Redaktur : Yeyen Rostiyani
Tahukah engkau apa yang menghancurkan Islam?" Ia (Ziyad) berkata, aku menjawab, "Tidak tahu." Umar bin Khattab RA berkata, "Yang menghancurkan Islam adalah penyimpangan orang berilmu, bantahan orang munafik terhadap Alquran, dan hukum (keputusan) para pemimpin yang menyesatkan."(Riwayat Ad-Darimi, dan berkata Syaikh Husain Asad: isnadnya shahih))