Govt replaces president director of Merpati
Monday, 14 May 2012, 20:11 WIB
Komentar : 0
Republika/Wihdan Hidayat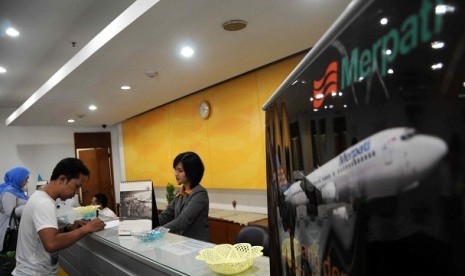 REPUBLIKA.CO.ID, JAKARTA – The Ministry of State-Owned Enterprises officially appointed Rudy Setyopurnomo as the President Director of Merpati replacing Sardjono Jhonny Tjitrikusumo. The replacement is aimed to enhance Merpati's performance.
"I was called to preside Merpati," Rudi Setyopurnomo said on Monday.
He said, the state-owned airline incurred 750 billion IDR losses in 2011. Even in the first quarter of 2012, the company suffers 250 billion IDR losses.
"It was not well managed," he claimed. Some flight, which supposed to boost the company's performance, did not contribute optimally due to the ill management and promotion.
"For example is Jakarta-Bandung which is three flights in a week. The load factor from 56 seats was only filled by four, or sometimes empty," he said. The condition causes the company to suffer 2-3 billion IDR loss per day.
He added the replacement was authorized by the Minister of State-Owned Enterprises, Dahlan Iskan. Garuda Indonesia, as a shareholder of Merpati, has agreed the replacement.
He promises to boost the performance and managed the routes maximally. Setyopurnomo plans to arrange the reservation and marketing and also enhance the license from Europe as the first step. "If we work hard, we can gain some profit within six months," he promised.
Dan dirikanlah shalat dan tunaikan zakat. Dan apa-apa yang kamu usahakan dari kebaikan bagi dirimu, tentu kamu akan mendapat pahalanya pada sisi Allah. Sesungguhnya Allah Maha Melihat apa-apa yang kamu kerjakan. (QS.Al-Baqarah [2]:110)