Govt claims cocoa beans export records a success
Tuesday, 08 May 2012, 18:27 WIB
Komentar : 0
Antara/Seno S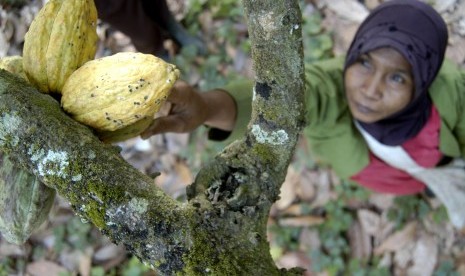 REPUBLIKA.CO.ID, JAKARTA – The export duty policy imposed in 2009 increases cocoa export and its products, by three times fold. The Vice Minister of Trade, Bayu Krisnamurthi, said that on Monday.
The export duty on cocoa beans is aimed to revive domestic downstream industry. The cocoa downstream export on 2009 was only 74.9 million USD. The number increased on 2010 that became 149.28 million USD. And on 2011, the downstream export reached 209.3 million USD. "It increases three times," Krisnamurthi said.
The export of intermediate products also increases significantly compared to 2009. The intermediate product export on 2009 was 250.4 million USD. It became 518.9 million USD on 2011. Meanwhile, the export on raw cocoa beans decreases from 1.09 billion USD on 2009 becomes 617.1 million USD on 2011.
The capacity of cocoa refined products also increases. Before the export duty was imposed, the capacity was only 250,000 tonnes. And now the capacity reaches 480,000 tonnes.
He said it was a time for Indonesia to make a cocoa brand at national level, while we still used local cocoa brand, such as Sulawesi cocoa. Once Indonesia enters intermediate market, Indonesia should have distinct quality.
Mimpi yang paling benar ialah (yang terjadi) menjelang waktu sahur (sebelum fajar)((HR. Al Hakim dan Tirmidzi))