The fourth CN-235 MPA dispatches to South Korea
Friday, 09 March 2012, 22:05 WIB
Komentar : 0
Indonesian Air Force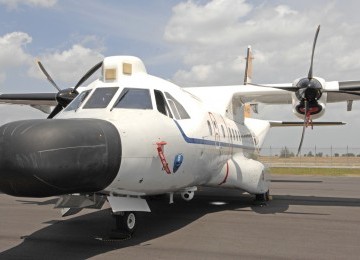 REPUBLIKA.CO.ID, BANDUNG – Indonesian Aerospace (IAe) has finished the fourth CN235/MPA (Maritime Patrol Aircraft) then dispatch it to Korean Coast Guard (KGC). The dispatch was conducted in CN-235 tarmac IAe and also its first flight from Husein Sastranegara Airport, Bandung, to Gimpo, South Korea, on Friday.
The ceremony was attended by Deputy Minister of Defense Sjafrie Sjamsuddin, South Korean Ambassador to Indonesia Kim Young-Sun, Chief of IAe Budi Santoso, and a member of Commission I in House of Representatives, Tritamtomo. Santoso explained the purchase contract of four CN-235/MPA KCG was signed on December 2008 with the value of 94.5 million USD. The first and second order was finished on May 2011 while the third was on December 2011.
The aircrafts are equipped with search radar, ESM, IFF interrogator, tactical navigation, tactical computer system, camera, bubble window, and other facilities. "The aircraft has a pair of General Electric CT7-9C engines with 1.750 horse power each," Santoso said.
It is flown to South Korea with the route from Bandung-Tarakan-Clark (Philliphine)-Taipeh (Taiwan)-Gimpo(South Korea). Piloted by Captain Adi Budi Atmoko and the co-pilot Captain Ester Gayatri Saleh, the flight takes three days two nights. The aircraft has taken several test based on the valid procedure and also has taken acceptance test.
Sjamsuddin said the CN-235/MPA was the latest version of IAe production with maritime patrol specification. The MPA version has become the trend for countries with waters because it is equipped with radar to detect ships in the waters. Sjamsuddin showed his appreciation towards South Korea trusting IAe products. He was optimistic that this cooperation would improve Indonesia-South Korea relations.
Dan orang-orang yang beriman serta beramal saleh, mereka itu penghuni surga, mereka kekal di dalamnya. (QS Al-Baqarah [2[:82)