Islamic organizations to march for Rohingya
Wednesday, 01 August 2012, 21:44 WIB
Komentar : 0
Republia/Tahta Aidilla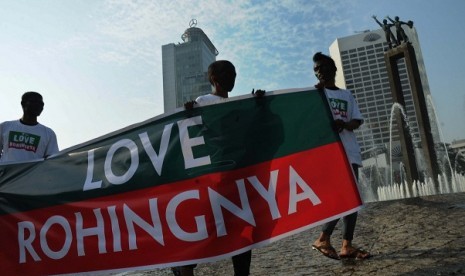 REPUBLIKA.CO.ID, JAKARTA – Some Islamic organizations including Indonesian Hizbut Tahrir (HTI) will march on Sunday as a protest over the violence in Rohingya. About 5000 people from the organizations will involve in this protest and urge the government to defend Rohingya.
"As the most populous muslim country, Indonesia must influence the bilateral policy of other countries," the spokesman of HTI, Ismail Yusanto, said on Tuesday press conference.
The act will be started at 10.00 from Tugu to State Palace in Central Jakarta. HTI will also hold the similar act in Aceh and Makassar for a week, from Friday to the next Friday.
"This upcoming Friday is a start. We will protest in front of Myanmar's Embassy to Indonesia in Menteng, Central Jakarta," he said.
To help Muslim Rohingya, HTI will send its contingent to Myanmar, as they did before to Gaza in Palestine.
Demi Allah, kami tidak akan mengangkat seorang pun yang meminta sebagai pemimpin atas tugas ini dan tidak juga seorang yang berambisi memperolehnya.(HR Muslim )