Imam Masjidil Aqsha visits Indonesian boarding school
Saturday, 07 July 2012, 23:47 WIB
Komentar : 0
Antara/Indriani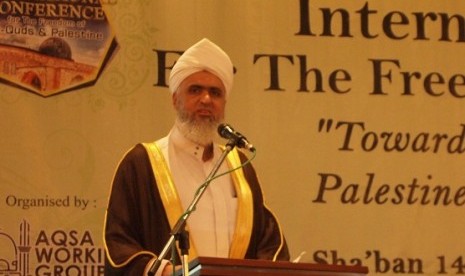 REPUBLIKA.CO.ID, JAKARTA - Imam Masjidil Aqsha, Sheikh Ali Omar Yacob , will visit a boarding school, Pesantren Al Fatah in Cileungsi, Bogor, West Java, after attending the International Conference for the Freedom of Al-Quds and Palestine in Bandung. Sheikh Al Abbasi will deliver a sermon before 12,000 Indonesians gathered in the Pesantren following the invitation from the Chairman of Pesantren Al-Fatah, H Muhyiddin Hamidy.
According to the spokesman of Pesantren Al Fatah, Ali Farkhan, Sheikh Al Abbasi will be accompanied by other Palestinian figures, including Dr. Ribhi Halloum Hijazi, the coordinator of Global March to Jerusalem (GMJ).
This event will also be used to socialize the results of the conference. "The conference appoints him as a leader of Masjidil Aqsha liberation," Farkhan said.
Pesantren Al-FAtah has more than 23 pesantren in Indonesia, such as in Aceh, Lampung, East Kalimantan, and Maluku. There are at least 30,000 people studying in the pesantren.
Dan orang-orang yang beriman serta beramal saleh, mereka itu penghuni surga, mereka kekal di dalamnya. (QS Al-Baqarah [2[:82)