Imam of Nabawi mosque visits Aceh
Wednesday, 27 June 2012, 21:19 WIB
Komentar : 0
Antara/Ampelsa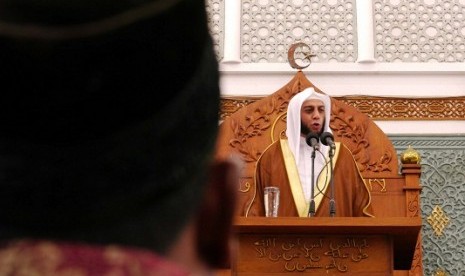 REPUBLIKA.CO.ID, BANDA ACEH - Sheikh Ali Jaber, one of the imams of Nabawi Mosque in Medina, Saudi Arabia, visited West Aceh district, Aceh Darussalam province, on Wednesday. The imam actually arrived in West Aceh on Tuesday evening for a one-day visit.
"Sheikh Ali Jaber was in Aceh to pray for the peaceful implementation of the second round of district head elections in West Aceh, scheduled to be held on July 2," said M Amin, a spokesman of the West Aceh district administration, in Meulaboh on Wednesday.
"Sheikh Ali Jaber will lead a prayer gathering, expected to be attended by around 5,000 people, at Baitul Makmur Mosque in Meulaboh on Wednesday from 2 pm through 6 pm local time," he said, adding that the event would be broadcast live by state radio, RRI.
Nabawi Mosque or Al-Masjid al-Nabawi, which is also popularly known as the Prophet`s Mosque, was built by Prophet Muhammad in the city of Medina. It is the second-holiest site in Islam, the first being Masjid al-Haram in Mecca. Nabawi Mosque is also the second-oldest and one of the largest mosques in the world.
Siapa saja yang telah kami angkat untuk mengerjakan suatu pekerjaan/jabatan kemudian kami telah memberikan gaji, maka sesuatu yang diterima di luar gajinya yang sah adalah ghulul (korupsi)((HR. Bukhari))