Pakistan: Indonesian Muslim education becomes a role model
Tuesday, 26 June 2012, 22:04 WIB
Komentar : 0
Republika/Tahta Aidilla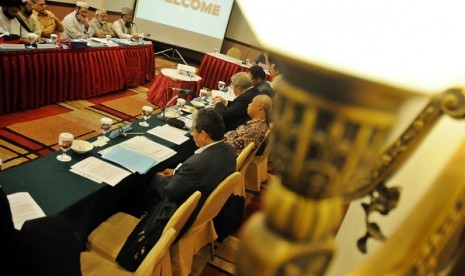 REPUBLIKA.CO.ID, JAKARTA - Indonesia becomes a role model of countries which advance the religious values in its education system. Dr. Muhammad Jhalid Masud from International Islamic University of Islamabad said Indonesia was one of successful countries in transforming the traditional pesantren into modern pesantren (boarding school, Ed) without violence erupting.
"We want to see if it can be implemented in Pakistan," he said on Monday in the ulama discussion forum of Pakistan and Indonesia in Atlet Hotel, Senayan.
The discussion with the theme 'Challenges Facing Indonesia and Pakistan in Religious, Educational and Intellectual Perspectives; prospects for experience sharing and engagement' is held by Universitas Islam Negeri (UIN) Syarif Hidayatullah with PAK Institute for Peace Studies (PIPS).
Pakistan Ambassador to Indonesia, Sanaullah, said Indonesia was a Muslim moderate country."Indonesia is more harmonious," Sanaullah said. He explained that people in Pakistan were still struggling from the misery of different teaching in Pakistan.
The Rector of UIN Syarif Hidayatullah, Komaruddin Hidayat, said the tolerance was a result of education. Besides the formal education, the students also get religious education. "This system creates a tolerant person," he said.
The dialogue between Pakistan and Indonesia is also aimed to exchange their experience on the implementation of Islamic education, pluralism, and state's policies toward religions.
Apabila Allah memberikan kenikmatan kepada seseorang hendaknya dia pergunakan pertama kali untuk dirinya dan keluarganya.((HR. Muslim))